For "Junk"le Bells in May


A page from an old paper back book, fan folded and secured with hot glue with a found Santa attached to the middle. I wanted to have mor of them made by now but just didn't get it done.


I included the photo I found on the internet where I got the idea. I think they would be cute made into a garland or banner spelling out MERRY CHRISTMAS!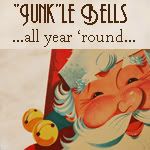 " />