No Jill and I didn't try this, I was ready and waiting for her to post JUNKLE BELLS and to my surprise she had a garland project too!!
All you need for mine is buttons and 24 guage wire. I choose white buttons cause I have alot of them, but any color would be fine.
First I cut a bunch of the wire about 6 to 8 inches long.
Then you thread the one end throught a hole and bend it to go back down the other hole.
And twist the end around the other wire.
I did all the ones that I had the wire cut.
Then to make the garland I just lokked for a good place and twisted it around another button wire.
Then folded the wire up and added another button on the other end of the wire.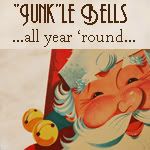 " />